WHMCS Klarna Paymentgateway for Stripe.com
Klarna is a well-known and popular payment option from Sweden.
With Klarna, you can offer your customers different payment options depending on their country of origin. For example, Klarna allows your customers to pay by instalments, pay in 30 days or pay immediately by instant transfer or direct debit. The payment options offered are controlled by the payment service provider depending on the customer and country of origin.
Our WHMCS payment gateway offers you the possibility to integrate this flexible payment option via stripe.com into your WHMCS installation. All you need is a stripe.com customer account with activated "Klarna" payment method.
The payment method is available to customers from the countries: Australia, Austria, Belgium, Canada, Czech Republic, Denmark, Finland, France, Germany, Greece, Ireland, Italy, Netherlands, New Zealand, Norway, Poland, Portugal, Spain, Sweden, Switzerland, United Kingdom and United States. If the customer is from another country, he/she will receive a corresponding message when attempting to make the payment.
The following picture shows the simple configuration in WHMCS.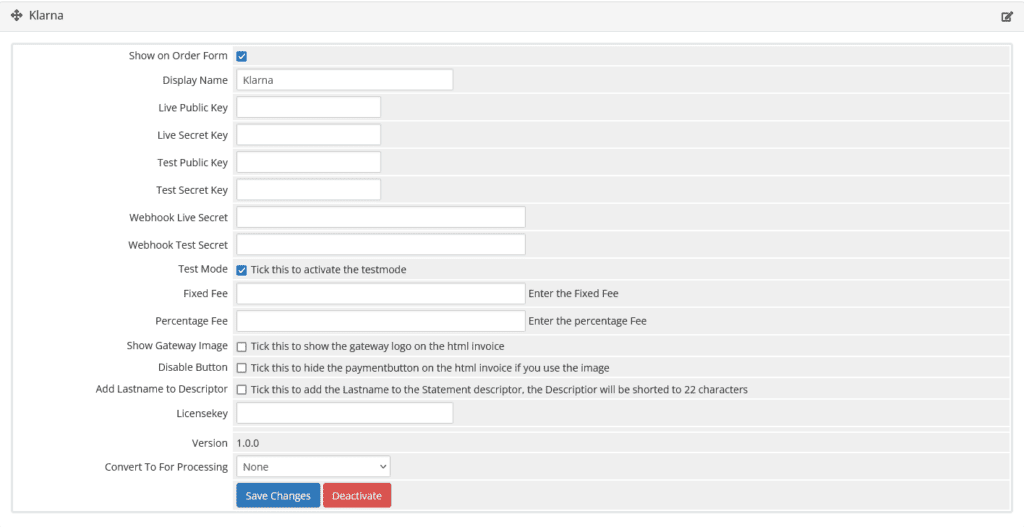 You can find the Changelog here.
Note
Are you interested in purchasing several WHMCS gateways for the payment service provider Stripe.com from our offer at once? Then contact our support in advance and you will receive a discount of 5% for each additional gateway (if you buy 2 gateways at the same time you will receive a 5% discount, if you buy 3 gateways you will receive a 15% discount,... up to a maximum of 35%)
Note
* The purchase of this gateway already includes access to updates and support for 1 year. This access is renewed annually. The cost for the renewal is 15€ incl. VAT. The update/support access can be cancelled with a notice period of 30 days before renewal.
WHMCS Klarna Paymentgateway for stripe.com
encoded (need IonCube Loader 12)

Kostenlose Dev Lizenz auf Anfrage

Compatible with WHMCS 8.5 – 8.7 and PHP 7.4 & 8.1

Update and support included for 1 year, thereafter 15€/year*.