Klarna Payment Gateway for WHMCS
Klarna is one of the most well-known payment service providers and offers your customers a variety of payment options. With our gateway you can integrate Klarna into your WHMCS installation.
In this case, the customer is redirected to the Klarna website to make the payment. Once the payment has been made, the customer is redirected to your WHMCS page and the invoice is marked as paid.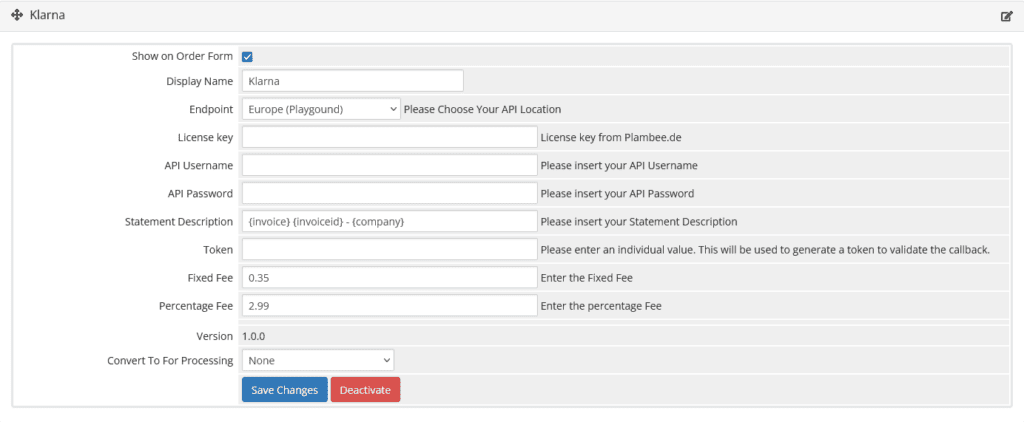 You can find the documentation for the module here.
You can find the Changelog for this module here.
Note
* The purchase of this gateway already includes access to updates and support for 1 year. This access is renewed annually. The costs for the extension are 15€ incl. VAT. The update/support access can be cancelled with a notice period of 30 days before renewal.
Note
Source code versions may only be used and adapted within the own company. A distribution outside the company or a sale in parts or completely is not designed!
Klarna Paymentgateway for WHMCS
encoded (need IonCube Loader 12)

1 licence allows the use on one WHMCS productive system + one WHMCS dev system

compatible with WHMCS 8.5 - 8.8 and PHP 7.4 & 8.1

Update and support included for 1 year, thereafter 15€/year*.
Klarna Paymentgateway for WHMCS Sourcecode
1 licence allows the use on one WHMCS productive system + one WHMCS dev system

compatible with WHMCS 8.5 - 8.8 and PHP 7.4 & 8.1

Update and support included for 1 year, thereafter 15€/year*.

Activation of the order takes place after manual checking