WHMCS Gateway for PayPal via Stripe.com
PayPal is one of the most popular payment methods on the internet, with our PayPal gateway for the payment service provider Stripe.com you connect your PayPal account with your Stripe account and have everything in one place.
As with our other Stripe.com gateways, when the customer clicks the pay button, they are directed to the payment page, and once the payment has been successfully made, they are directed back to your WHMCS installation. As soon as Stripe.com notifies you that the payment has been successfully processed, the invoice is marked as paid. Subscription payments are currently not supported.
The WHMCS gateway for PayPal payments via Stripe.com requires an account with Stripe with activated Paypal payment method and linking of your Paypal account with Stripe.
The following picture shows the simple configuration in WHMCS.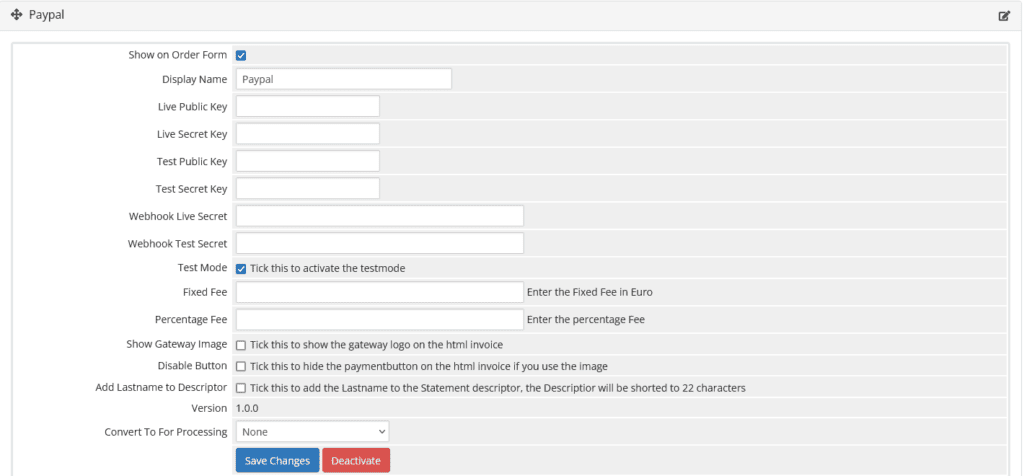 You can find the Changelog here.
Note
Are you interested in purchasing several WHMCS gateways for the payment service provider Stripe.com from our range? Then contact our support in advance and receive a discount of 5% for each additional gateway (if you buy 2 gateways at the same time you will receive a 5% discount, if you buy 3 gateways you will receive a 15% discount,... up to a maximum of 35%)
Notes
* The purchase of this gateway already includes access to updates and support for 1 year. This access is renewed annually. The cost for the renewal is 15€ incl. VAT. The update/support access can be cancelled with a notice period of 30 days before renewal.
WHMCS payment gateway for PayPal via Stripe.com
encoded (requires IonCube Loader 12)

1 licence allows the use on one WHMCS productive system + one WHMCS dev system

compatible with WHMCS 8.5 - 8.7 and PHP 7.4 & 8.1

Update and support included for 1 year, thereafter 15€/year*.